Karim el Hayani's achievement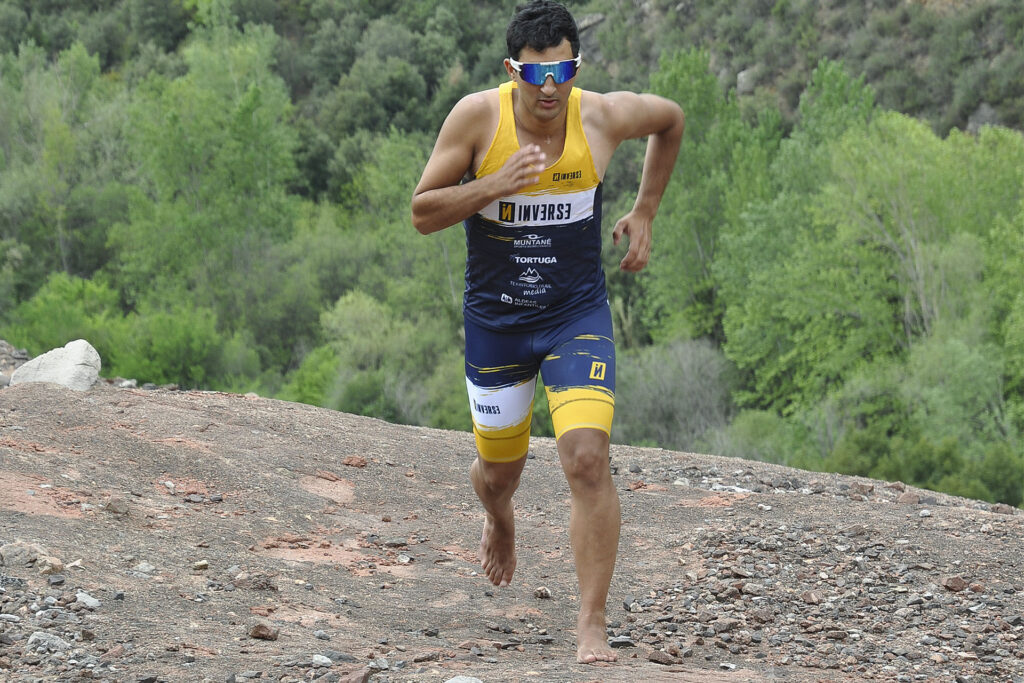 At just 27 years old, Karim el Hayani has made history by completing the 250 kilometres of the toughest desert race on the international calendar – the Marathon des Sables – while running barefoot.
Karim el Hayani's life story is one of pure survival. When he was just 12 years old, he climbed onto the underside of a truck to cross the Strait of Gibraltar from Morocco, and reached Spain by way of Algeciras.
As an athlete, Karim el Hayani's sports philosophy is based on running barefoot, like the athletes of ancient Olympic Greece. Indeed, Karim is one of the world leaders in barefoot running, and he holds various Guinness World Records for running barefoot over different distances and terrains.
A meeting with Karim el Hayani cannot fail to impress anyone. Apart from being someone who conveys joy and positivity to everyone around him and all those who know him, this modest athlete has become a media figure in many countries thanks to running barefoot in mountain races that take place on all kinds of terrains and across various distances.
But Karim el Hayani does not run barefoot out of a sense of purism – he decided to run barefoot in 2012 after discovering the relief he felt after taking off his shoes at the end of a training session, and "feeling the sensation of connecting with nature." A year later, in 2013, he lifted the Spanish Junior Cup for mountain races after running barefoot in all the races that were eligible for points. Today, he uses biomechanical criteria to refine his barefoot running technique in order to reduce muscle and joint fatigue, discomfort and pain.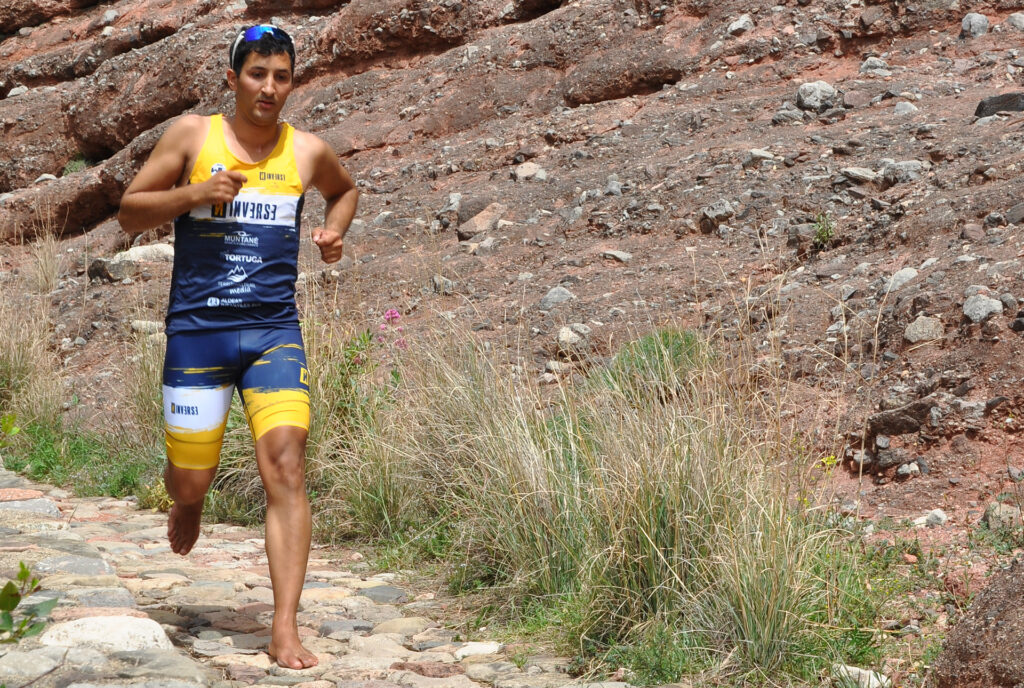 The first athlete in history to finish the Marathon des Sables barefoot
The Marathon des Sables is a tough and very demanding race that covers various stages. It is considered one of the world's toughest trail running races. This marathon across Morocco's Sahara desert was held for the first time in 1986, and it has been organised by the Frenchman Patrick Bauer since its inception. The marathon covers a total of 250 kilometres and lasts seven days. It covers six stages: five stages of between 20 and 40 kilometres, and one stage of around 80 kilometres. It is a test of self-sufficiency, in which each runner must carry their own food, their sleeping bag and any other accessories and tools they might need.
And in this race, Karim El Hayani has made history. And not as a result of winning it or ending up on the podium. He has done so by completing it barefoot – that's right, barefoot – along a route totalling 250 kilometres of hard desert full of sharp stones. Karim's feat has become a major news story in the Spanish and international media. Karim has visited various television and radio studios in recent weeks to give interviews about his feat in the Marathon des Sables.
A very hard experience psychologically and physically
The vast majority of the participants in the race supported and encouraged Karim throughout the race. And when he arrived at the finish line every day – and particularly at the final finish line on the last day – the reception, involving applause and words of encouragement from his fellow racers, was quite an event. For Karim "it was a very tough psychological experience" involving "8-10 hour days, carrying a heavy load", but he was able to overcome the harshness of the experience thanks to "the support from my fellow athletes who came from many countries" which according to Karim, was "beautiful".
Karim El Hayani took part in the Marathon des Sables with the support of Inverse, and above all with the support of Territorio Trail Media, the prestigious programme on Radio Aragón which is in turn one of the leading digital media outlets in the world of mountain races and trail running.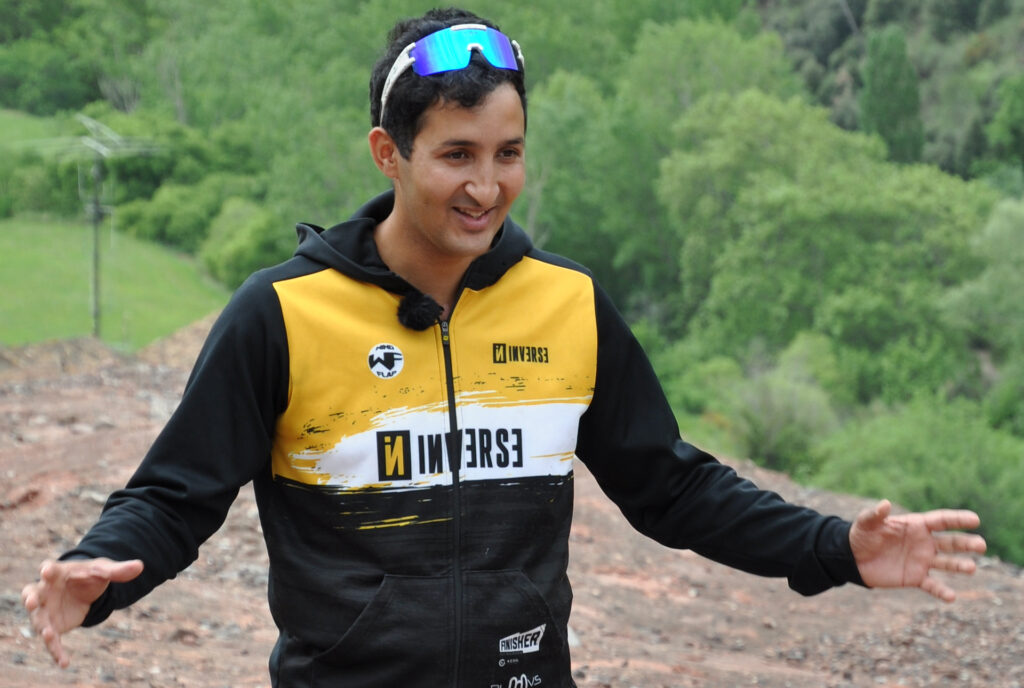 Guinness World Record in 2021 for running barefoot on snow and ice
Karim El Hayani broke the Guinness World Record for the half marathon (21.0975 km) barefoot running on snow in an unprecedented performance near Quebec City (Quebec, Canada) on 3 March 2021. He did it in 1 hour and 36 minutes, doing about fifteen laps of a 1300-metre circuit on the frozen lake of Beauport, to beat the previous official record. This record, which had stood at 2 h 6 min 34 secs, had been held for 14 years (since 2007) by the Dutchman Wim Hof, nicknamed "the ice man".
Karim says that the best thing about this record was how his friends in the race helped by acting as "hares", as "they fell over running through the snow and they all ended up learning to skate." Karim broke the record with the support of La Clinique Du Coureur, a prestigious Canadian continuing education organisation for health professionals that has become a world leader in the prevention of running injuries since 1998.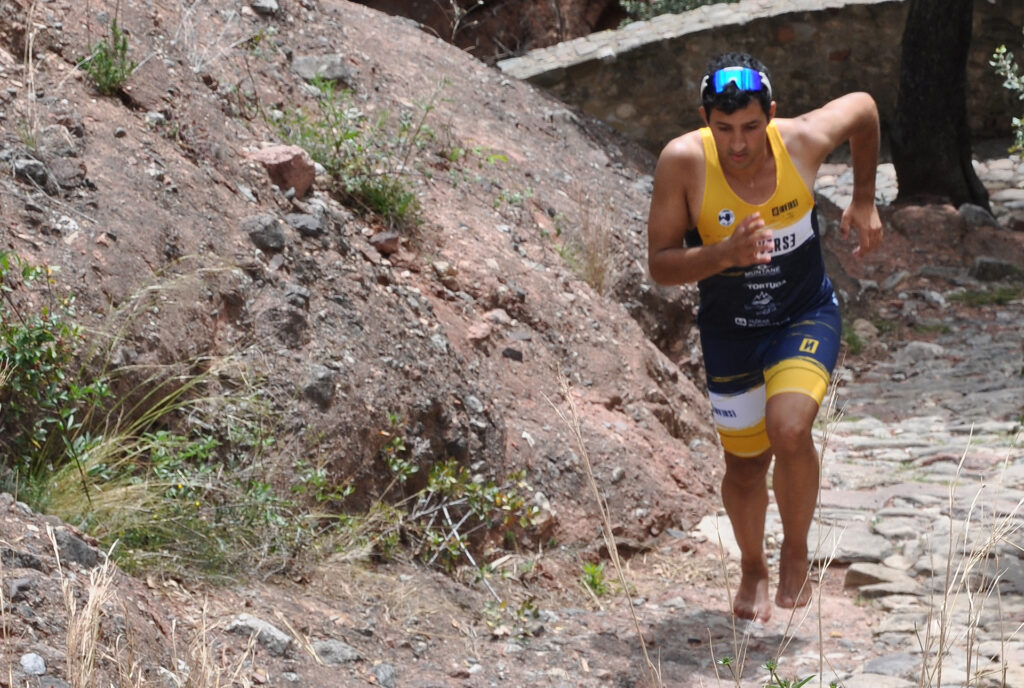 He came to Spain in search of a better future and found his sporting vocation
Karim El Hayani was born in Tangier (Morocco) in 1994, and he obtained Spanish citizenship in 2015. His story is one of continuous self-improvement, and constant gratitude to everyone who has helped and supported him throughout his life. At just 12 years old, young Karim ran away from his family as he wanted to make his dream of reaching an idealised Spain "to have a better future" come true; and he did so in secret, succeeding at the third attempt, by risking his life clinging to the underside of a lorry – next to the petrol tank – to cross the Strait of Gibraltar and reach the port of Algeciras.
Like other migrant children who have arrived in Spain without their family, Karim was lucky enough to be offered a place at the Aldeas Infantiles SOS children's home in El Escorial (Madrid), where he was given somewhere to live and the opportunity to receive secondary education and a course in cookery; Karim says that Aldeas Infantiles SOS has been "his family in Spain, which gave him the opportunity to get ahead." Indeed, it was at a school cross-country event, running in football boots, where Karim was discovered and recruited by Álvaro López of the La Ardillas athletics club in Madrid. Karim discovered that he liked athletics and he was also good at it, despite the fact that like many boys in Morocco, he hoped to become a footballer for FC Barcelona when he came to Spain.
And people began to talk about Karim El Hayani when he lifted the Spanish Junior Mountain Racing Cup in 2013. In 2014, at the age of 20, he decided to move to Catalonia to have more sporting opportunities, and he worked at the legendary Lluís Estasen mountain refuge, at the foot of the Pedraforca mountain. There he met Kilian Jornet, who he trained with on many occasions. He obtained a sports sponsorship from Inverse shortly afterwards. Today, he is a member of the Inverse Team Trail Running.