The 10 most important things you need to know about sports socks for cycling, triathlons, running and trail running.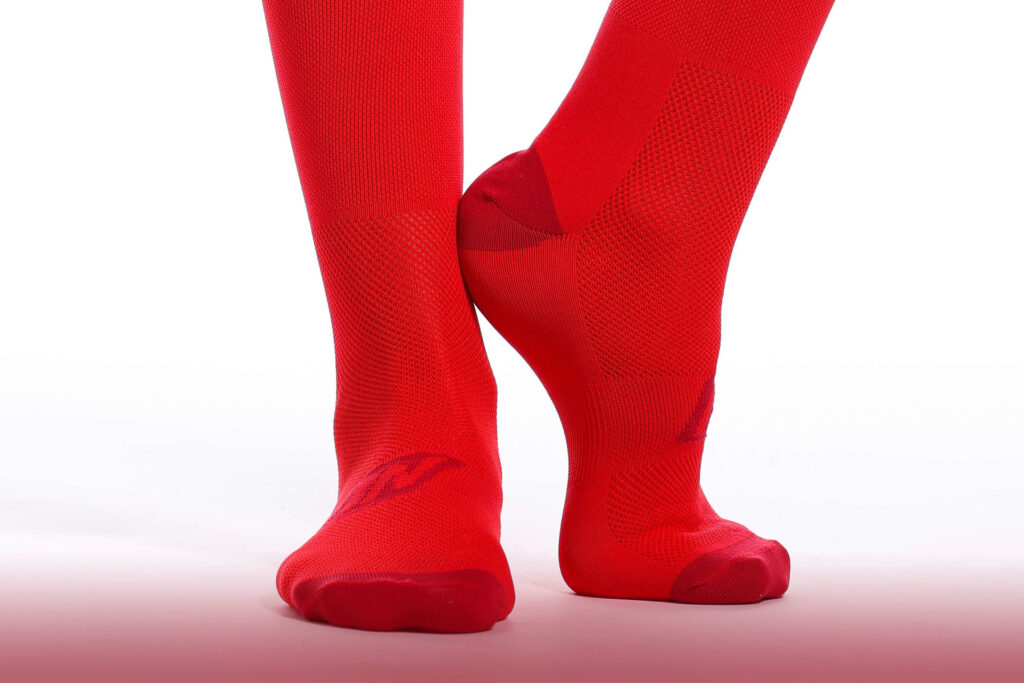 Professional sports socks have evolved in recent years, and become more affordable without compromising on quality. INVERSE has given its backing to this area, and to manufacturing socks for use in a variety of sports.
Some people miss doing sports with just any type of clothing, and detest the technification and professionalism of the technical sportswear used in sports such as cycling, triathlons, athletics, running, trail running and swimming.
But if there is one thing that most athletes today understand, it is that technical sportswear is necessary in any sport, as the levels of comfort and performance will be higher. And obviously, each athlete will be able to purchase the sportswear they need depending on their budget and needs.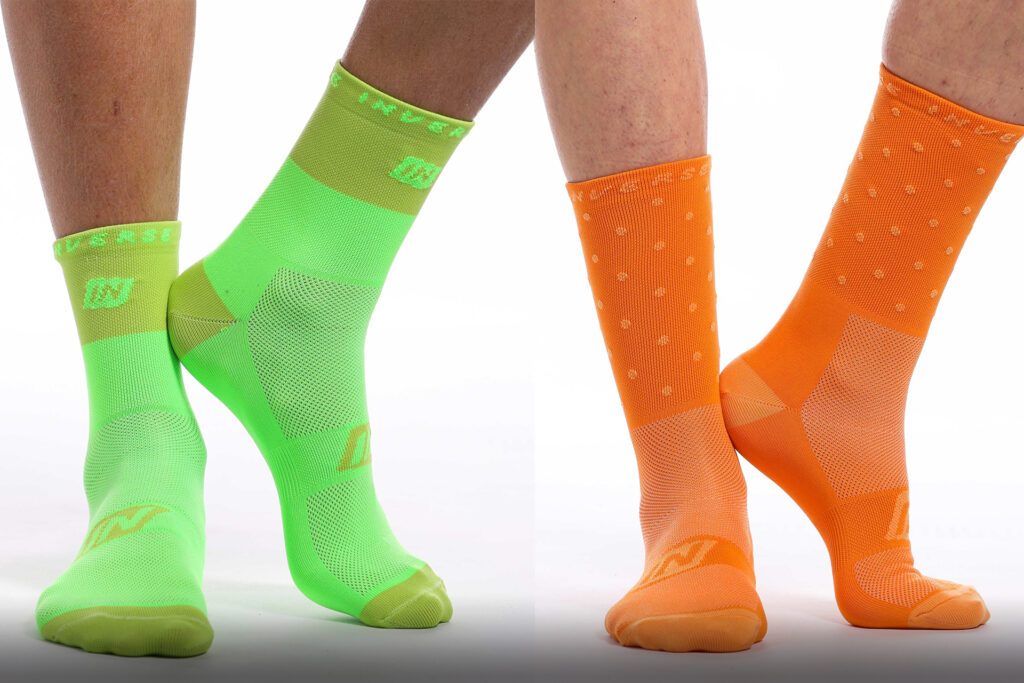 You don't have to be a professional athlete to wear technical sportswear, or to be able to afford the necessary sports complements and accessories. It's also true that brands like Inverse have made an effort to create models that adapt to athletes' budgets and needs.
That's why INVERSE offers a wide range of socks for use when you're doing cycling, triathlons, running, trail running and athletics. High quality socks at a reasonable price that meet athletes' needs.
In our opinion, these are the 10 most important things you need to know about sports socks:
1. They're a visibility aid
A sock's location while riding a bicycle or running on a road makes it more visible due to its movement, and if fluorescent colours are used. Inverse has a wide range of socks in fluorescent colours that increase this visibility and the cyclist or athlete's safety as a result.
2. You can customise your socks
If you can already customise practically all the sportswear used in cycling, triathlons, running and trail running, why not customise your socks? Inverse has a customisation service for socks, for a perfect match with the design of the rest of your outfit.
3. Aesthetic combinations
When doing sport, you can also aim for an aesthetic combination of your sportswear with high visibility of your socks. Having a collection of socks in different colours will give your sports outfits a more glamorous touch. Although we always recommend that you use high visibility colours to enhance your safety when running or cycling.
4. Short socks or long socks?
That depends on your personal tastes or if you are competing officially in a UCI cycling championship. If you do triathlons, you'll be looking for a high compression sock. If you're mountain biking, you'll also prefer long socks to protect your feet and legs.
Road cyclists have traditionally worn short socks. It was Lance Armstrong who started wearing longer socks, and also broke with tradition by wearing black ones, when they had always been white.
And if you're competing, you need to know that according to the UCI, socks used in competition must be no higher than the midpoint between the ankle and the knee. In its regulations, the UEC (European Cycling Union) says that socks should be no higher than one centimetre from the beginning of the calf muscle (the gastrocnemius) and that they must always be white.
At Inverse we manufacture 11 cm, 14 cm and 20 cm socks. See the sizes here.
5. Sports versatility
Are you going to have some socks for running and others for cycling? Buy socks that are completely versatile for all sports, and you'll save money and space to keep your socks.
6. Thermal socks for when it gets cold
Thermal socks are essential when the cold arrives. They must be manufactured with high quality thermal fabrics that are also breathable. We also highly recommend socks manufactured with flat seams for greater comfort.
The toe and instep should also be made of a special fabric that repels water on rainy days. They also need to be windproof for windy days.
7. The sock is crucial for a good fit of the foot to the shoe
The fit of the sock to the foot is crucial in preventing friction and painful blisters. Today, the vast majority of cycling socks do not have seams, or have flat seams to prevent friction on the foot.
But when cycling, the shoe makes contact with the bicycle thanks to automatic pedals in most cases. What allows the foot to fit in it without any difficulty? Our socks.
8. Socks – responsible for breathability
An athlete's foot is one of the sweatiest parts of the human body. That's why these parts of the body come off worst during long days spent running or pedalling.
If we consider the heat generated inside the shoe due to the force exerted on the pedal and the sweat emitted, it is easy to see why it is essential for cycling socks to have good breathability.
9. New synthetic fibres are lighter and resistant to bacteria
The synthetic fibres used to manufacture the vast majority of cycling and running socks today perform better than natural fibres in the vast majority of cases. Thanks to their fibres, they are hydrophobic, they are lighter and have greater breathability. Manufacturing socks with polyester, Lycra and nylon guarantees high performance in sports.
These fabrics have the advantage that they wick away sweat and keep your feet dry, which helps your feet retain heat.
Another advantage of synthetic fibres is that they prevent fungi and bacteria from building up. And so they prevent unpleasant smells.
10. Customised cotton socks?
In terms of breathability, synthetic fibre socks are the best alternative. But cotton socks are ideal for the winter because they keep you warmer and also allow your feet to breathe.